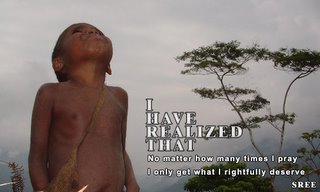 Hi..I am a 23 yr old gal from Bangalore, a product of the cultural crossover in India, the crossover that sometimes nips the buds that are born rather than nurture them..
Born in the South, brought up in the North, fed myself on Western ideas but still tied to the roots that hold me to the ground..not because I cannot cut myself away from them , but because if I did so ,assuming I have the courage to, I would not be able to handle it..I write about the present, the today of my life,since maybe outpouring my feelings on paper will help quiten the demons that threaten to devour my mind..
I came to this beautiful city last year, and fell in love with a man who saw me on my morning walks in the park…never realizing when I did so..He stared at me in the park, stared at the movement of my body when I passed him…His eyes bore into my mind, my heart, my soul, and even when I was trying to find a relationship that would dullen the pangs of my loneliness, his image seared my soul thru' the nites, thru' the day.
He made a sick excuse of wanting to get a PG for his female friend,tracked my office timings, noted my vehicle number and finally pretended to give an interview at a place near my office on the day my vehicle was unavailable and when I was looking for an auto..I pretended to believe him and he offered to drop me on his friend's(who was sitting in the garden pretending he didn't know anything) bike..anyways, I accepted and when he dropped me at my office, asked for my number..spelt it out to him..and he was clever enuf to save it after I went..
The first nite he called me, I was having dinner and he called me 'da' in that typical quaint Bangalorean lingo..and I was amused
I went out with him for dinner (to a B-grade eatery in my spags and sexy long skirt!!) and he caught hold of my hand when I crossed the road, though it was unintentional I would like to believe..
I don't remember my initial conversations with my admirer but I know that he stared at me too much, and I always looked away as much as I could..the first time we went to a pub, he could see all the way down the front of my top (now he says to me, I was so proud to show off such a beautiful gal) but never for a moment did his hand touch me….the second time we went out, I sat close to him, coz it was so nice talking to someone so mature, so focused..I was so drawn to this man…we talked about nothing and everything, we sat close with his arms around my waist,and my head on his shoulder and I felt reassured to be touched like that..
The next time, we had no plans in particular of going out, but I wanted to dance, and was dressed accordingly, and he was forced to take me to the discotheque, and we got drunk,.and I danced crazy(he says I dance like Shakira..) and we kissed…
Now the confusion here is who kissed the other first..he claims it was me since I was drunk..and I vehemently oppose this even now…however I was so drunk, I wanted to go to Nandi hills and not home, and he drove to the hills, asking for directions, and we slept in each other's arms in the backseat..and he took me in his arms all nite long, while I drifted in and out of Sleepworld..
And since then, I looked forward to meeting him and speaking to him, oftener..…
Anyways after going out for 3 times in 5 months, I gave up myself to the charms of my 'Stalker in the park" and we were going around as soon as we had met…
Since then, he rented a room in a beautiful house, and we changed our companies..
After nine months of love, I made the mistake of saying yes to a guy whom my parents had seen last month..(I was carried away by the presence of so many people in the room)..
I realized I loved my Stalker, and spoke to him, and both of us were shattered.
In one week we swung from maddening despair to extreme anger and I fought against my family but was emotionally blackmailed onto accepting the guy.His parents came and saw me and talked to me and said he needed time…I said I cannot go back on my words, since the commitments have gone out..I thought he would be ready to die for me if I asked, if he loved me seriously…he said he had never thought of marriage which hurt me very much then..(and I admit that was alright since we had been going around for only 10 months)..
We took a break but every single nite stayed up messaging all thru' where we swore our love, spewed venom, cried and made love.
After three weeks where he went home, and came back, things limped back to normal.I tried to look at the positive things in the 'Arranged marriage guy' in a positive way but failed miserably..His parents called me often but I kind of felt suffocated. I was not mentally prepared for marriage and I did not know this guy at all, which made things worse. I was not at all compatible with him. I felt smothered…coz I had no feelings for him and it was difficult to pretend to love somebody when there is no attraction.
I spent three nites with my boyfriend, and realized that I cannot love anyone else..i can be only his..he branded my heart, my body, my soul with his love, with his touch and I feel nothing for another man..I sent a message to my would be fiancé saying I did not want this marriage.
There are times when my love and I fight, and I cry and he withdraws into his shell. Some fights are terrible..
I know there is a crack in the glass…but I know that it can be glued and only time will heal the wound, since I never for even a moment, think of any other man except him..and I love him truly and so does he..
Its upto me now to make him realize that I could make him so happy, if he only said to me that he is with me..I could give up everything for him, everything for his sake, if he wished me to, and I would be so happy, if I spoke to him only once a day..only once..I would live on that alone..!
I cancelled my marriage...I called it off..I can never be any other man's possession except my boyfriend's..somethimes I think I will go mad.
I woke up this morning and meditated..I started seeing the jumbled up jigsaw pieces of my life begin to form a definite pattern and talked to God, whom I never believed in.
I am in charge of my own life, and no one in this world will share my burdens I believe...however God tests us thru' Love, I would like to believe and every moment of a relationship teaches you something new..every rough patch makes you emerge stronger..I still love him, with all my heart...and I feel freer : free like the clouds that tease the mountain tops, like the river that makes its own course, like the butterflies that are seldom caught with bare hands.. I feel free coz his love releases me..One thought of him makes me smile, one nite with him makes me soar, one touch of his, one kiss of his, releases me from my bondage..I can be myself with him, he knows my bad side, he has seen me when I wake up in the mornings with messed up hair and no cream on my face, and he still loves me.For him, I am more beautiful than any model or actress, he says.
I guess life shows u a number of paths, some of them lead to squalor and some to rainbows, its upto us to follow the path that destiny most often chooses for us and guides us thru' intuition..I have loved truly and completely, and I have changed and learnt a lot of things coz of my relationship with this man..
I often like to quote from a philosopher's book - "Love is like a poppy by the roadside, U pass by in ur car , see the poppy and exclaim 'How Beautiful!' – To the poppy nothing has happened, but to u yes, you suddenly saw that beauty in the wilderness..and u move on with a smile on ur face.."
I dream of a life with my own house , and a man to hold me, and babies all over the place..like the typical feminine creature that I can be sometimes, when I am not in my tomboyish moods..but I also know that dreams can only be realized when they are rooted to reality and practicality..otherwise they are shattered and one gets disillusioned..
Such is life then, and at this point in my life, I leave my fate to God and move on with a lil hope and a lil prayer , I need them if I want to be with the man I love more than my life..